The process of cutting is influenced by the fact how efficiently workers use the latest technology and how it is taken into account in economic indicators. When looking for a type of service such as "Plasma cutting of metal, Europe, a democratic price", pay attention to the description of the technology of cutting, we have it split type and through this we are able to execute orders more quickly and accurately.
ARTMETALDECOR, works with the following material:
carbon steel;
corrosion-resistant or corrosion-proof steel;
alloys made of aluminum;
copper alloys;
sheets of any metal.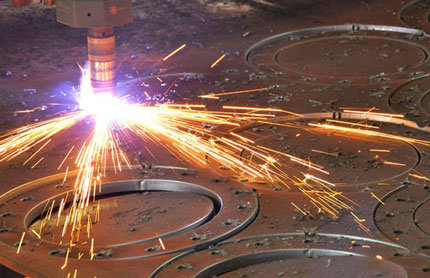 The main factors for choosing a plasma cutting path
The use of plasma cutting is widespread in many areas of industry in order to adjust the efficiency of the technological process of products. It helps to get designs of different designation and degree of complexity.
To better understand the process of plasma cutting, consider its advantages:
High-speed product processing
There are no strain gaps
Processing of metals of color and black origin
No need for additional processing
Cutting of various shapes
The equipment has a high cut accuracy of plus or minus 0.25 mm, and the finished holes are not more than plus or minus 0.1 mm
Products have high repeatability with an accuracy of no more than 0.1
Production has no impact on the environment
The thickness of the material does not matter.
Plasma creeping has separate features for each product.
Stainless steel, used for billets of large diameter and round shape, because of stainless sheets it is not possible to make curly pieces by mechanical means. The introduction of solid solutions is impossible for titanium. Prices for forged products, Europe and its masters set depending on the complexity of works.