Sophisticated design of your balcony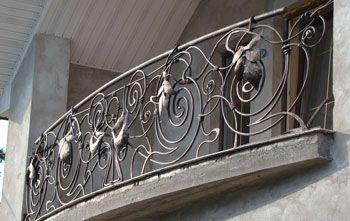 There are classic balconies in any standard building. In general, they are quite regular in appearance and do not differ from each other. We invite you to reject the stereotypical framework, release your imagination and order a balcony with forged unique, stylish, modern elements. He will make your home a highlight of the street and add to it the attractiveness. You can buy forged balconies from our company ARTMETALDECOR, which will make this creation with its original design and special care.
Wrought IRON balconies and their varieties
Variants of the possible ready-made design are already presented in the catalog on the site of the company, we also work not only on ready-made models, but also take into account your wishes and imagination. We accept author's thumbnails or develop them with you. Together we will create what you really need, we will discuss each curtain and pattern, types of fasteners, finishing, painting, installation, so that each access to the forged balcony was accompanied by you only pleasant emotions. Some masters who manufacture wrought balconies in Lviv, the price and quality do not always coincide. ARTMETALDECOR guarantees one hundred percent guarantee of its products.
Our products will serve you more than for one decade. We offer balconies of the following types:
rectangular;
corner;
arc;
combined.
When choosing the right option do not forget about the features of the balcony plate, if it is straight - then we will never be able to install on it the arc type of the balcony. Pay attention to materials for making a forged balcony and discuss with the specialists the future height of the product.
Luxury forged railing is available
You will be able to choose, and to order the forged balconies by calling our managers, they will help with design selection, consult you according to the pricing policy of the company and sign a project contract, which includes all steps from measurement to installation. We manufacture forged products by plasma cutting metal, which greatly saves your budget and reduces production time.
When buying a railing on a forged balcony, you will revive the façade of even the most modest building. Our masters will harmoniously combine them with different types of material and with architectural styles of the house design and fine knitted forged railing with bright elements of artistic forging perfectly complement and decorate the dwelling.