Create comfort in the home with ARTMETALDECOR masters
Fireplaces have ceased to be considered an accessory of luxury nowadays, but rather they became affordable by the necessity of every home. More and more people prefer the natural combination of metal, stone and hearth, which can be seen endlessly. The fireplace in the house creates a real comfort and gives a feeling of cosiness to its owners. Our firm ARTMETALDECOR offers a good choice of products such as forged fireplaces, grills and auxiliary accessories. We will diversify your evenings and give them some romance and atmospheric comfort. Our experts will develop a number of options for the design of the fireplace and choose the stylish design according to the design of the room.
Affordable forged fireplace price for guaranteed quality
Looking for forged fireplaces, the price in Europe may seem overestimated, but everyone knows the fact that any cost of the product consists of:
Plasma cutting metal, as the first stage in the manufacture of the product. This is not a cheap process, but it is very quick to work and gives your fireplace a unique look;
an individual approach to each client, we do not have a conveyor, we study in detail all the features of the future work and coordinate them with the customer, and this takes a lot of time and effort;
the price of the source material. We want that the product you bought was worthy of a look and satisfy you for several decades, so we work only with examined suppliers, qualitative materials and tools.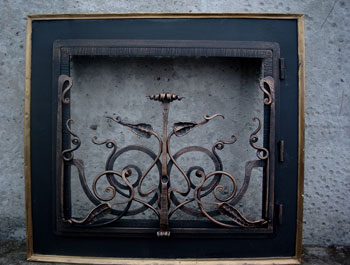 You can always buy hand forged braziers at ARTMETALDECOR store at an affordable price, because one of the main principles in our blacksmithing is to satisfy the needs of all customers and this rule is widespread on the company's pricing policy.
In order to make your evenings at the fireplace even more atmospheric, we suggest considering a forged fireplace set and ordering it on ARTMETALDECOR website by calling our managers. Includes: forged fireplaces and fences, baskets for firewood, stone tongs. You do not need to order a kit, individual items are available for sale. But the prudent host will surely need fence lattices on the fireplace, which will be able to keep their home from the tongues of the flame and unexpected coal on the floor. Our masters will make fireplace doors, lattices and other tools in one stylistics with fireplace having created ideal composition.