How to choose the correct forged lighting fixtures in the room?
When guests come to your home, they do not notice the lighting, they only make a general impression of comfort. But the skillfully selected light in the interior plays not the last role. It depends on the atmosphere of the room and the special perception of the design. Hand forged lighting fixtures are not just a means of lighting, it is a work of our masters, which combines knowledge and many years of work experience, as well as fantasy of the designer with the skill of a blacksmith, and all this is very necessary to make the chandelier a highlight of your style, to diversify it, to emphasize the advantages, to add refinement and attractiveness.
Now forged chandeliers have become much easier to buy because they have been actively taking up leadership positions in the sales market and in the hearts of customers. It's hard to imagine a home, without any kind of forged element of decor. The modern world has inspired new trends in the work of blacksmiths. It can be emphasized that forged products are:
stylish;
durable;
unique;
available.
Demand for forged iron lamps in Europe is growing, and therefore, there are also rising variants of design proposals: with antique chandelier effect with antique chandelier, petals of flower garden, arched, strict classical pendant composition and many other variants, which you can see in the catalog on the site of the company ARTMETALDECOR.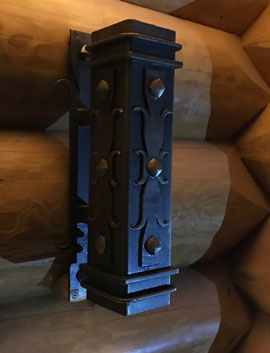 In order to choose the right forged sconces and chandeliers, in Europe, or to call a master from our company, you need phone. Our experts will not only pick out the lighting options for your home, but also show how to correctly calculate the size of the future chandelier, so that it would be a spectacular highlight in the interior, rather than a dimensional, superfluous element that only distracts attention, but does not adorn rooms.
The rules of lighting the building from our masters
When choosing the height of the installation and the number of light devices, remember about the comfort of using. If you are afraid to miss the sizes, order the devices which have a function of height adjustment from the ceiling. It is also important the stability of the product, it must comply with the rules and regulations of fire safety. Variants of the use of forged lamps are many, this may be not only the main lighting of the house, but also an accessory, for example, a hand forged lighting fixtures in the form of a torch or a lantern at the entrance to the house, will be an impressive element.