Decorative forged products on the protection and comfort of your home
In the modern world, the issue of the safety of life and housing is in the first place for every person. Our company, ARTMETALDECOR, manufactures not only fences and furniture, but also develops auxiliary elements for your home. Here you can always order special forged grates including installation on such objects as:
fireplaces;
the door;
windows
By installing a forged window grate or the door grate for peace and security in your room you can not worry. They will emphasize the refinement, versatility and refinement of the taste of the owners and protect the home from intruders. Decorative grate on the window is an elegant decoration that will ensure their preservation from third-party penetration. On the site in our catalog you will find various variants of similar forged lattice frame, or we will gladly consider your design proposals.
Installing a fireplace in the house is a serious matter. The completed view of the fireplace will only be obtained after the installation of a special grate, which will reliably protect the home from the flames and coarse coal. By ordering forged grates for fireplaces, you will receive not only a safety device, but also a beautiful, stylistic addition to your interior, which will be a highlight in it. Also, you can choose the right accessory to the fireplace: it can be tweezers, a firewood basket, a scoop or a poker.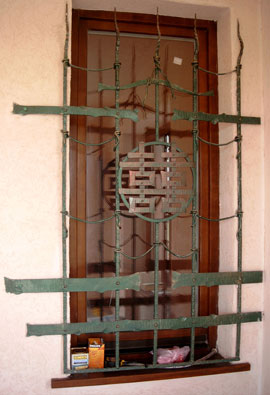 Our experts always try to give the maximum choice to their clients and therefore offer the following design choices:
sketches from the catalog on the official site ARTMETALDECOR;
do not have access to the computer; visit our office to view print catalogs;
You can call a wizard from the team of the company, with directories to your home;
Whether to develop an individual sketch.
After discussing the design of the future product, we will agree with you all the details of the work (choice of color, processing methods, terms of manufacturing) and we will calculate the cost of the whole project and secure it with the contract.
The cost of installation on forged lattice, Europe offers a very wide and competitive range of prices. We expect the cost of installation from the conditions of the dimensions of the design, its weight and the number of elements. Remember that the more parts of the design need to be installed, the less will be the cost of mounting one unit.